Happy Monday! How was your weekend?  May is already here – wowwie. Got your goals ready for the month? Have fun plans set? Let's do this!
Let's recap from last month…
Joyfully Inclined turned ONE! It's been a journey. I've never maintained a blog for this long before, so that's cool that I reached a year. Thank you all for visiting and supporting this project of mine.  Still working on the consistency factor (gahh!), but I appreciate that you stop by whenever you can and interact with me on Social Media. If you haven't added me over there (points to the box on the right), please do so.  Starting some new things on here, and excited to post more and share joy.
31. Yahhhss, the birthday arrived.  It was a lowkey day and I still had work, but I felt very loved. Got to take a few day trips during Spring Break (including Annapolis). Planning to take more time out for myself so I can rest and still have fun. The goal for this year is to a better person, get stronger, travel more, and succeed in all areas of my life.
Another successful dance year. Challenged myself when it came to my teaching techniques and choreography. Pushed my kids and teens to step it up in their talents and skills; they did a great job. Very proud of them. Onward and upward!
Photography. I've always enjoyed taking pictures, but this year I've decided to kick it up a notch. I took a workshop in January hosted by the wonderful Ica (Ica Images) and learned so much.  My mindset about processes have changed and it's been great.  I'm getting better at editing and since last fall, I've been able to shoot different subjects, including people! I don't know if this will turn into more than a hobby, but I'm keeping an open mind about it.  Having another creative outlet while others can enjoy that art is such a fun thing.
There are some other things happening, but I'm going to pause to share an important update that I'm finally revealing…
I GOT A NEW JOB!
I'm still teaching dance and choreographing, but I'm adding a new hat: office manager. Y'all…let me tell you what happened.  One of my goals for the year was to get another job, preferably one that was outside my regular field. I wasn't sure what that meant exactly.
Hit a major bump at the beginning of the year; I got very discouraged after a situation with one of my jobs turned sour. I was even doubting if I should still teach. But after a few weeks, I changed my focus, got myself together, and prayed for wisdom and guidance.
Since February, I've been on a mission – waiting on His directions, still doing what I needed to do, and applied to a few teaching positions for the summer. With all this going on, I chose to keep an open mind and not worry, no matter what happened. That was very important.
A few weeks ago, within a matter of days, God just worked it all out.  This opportunity literally came out of nowhere and it's exactly what I was praying for. *happy dance!* I'm so thankful.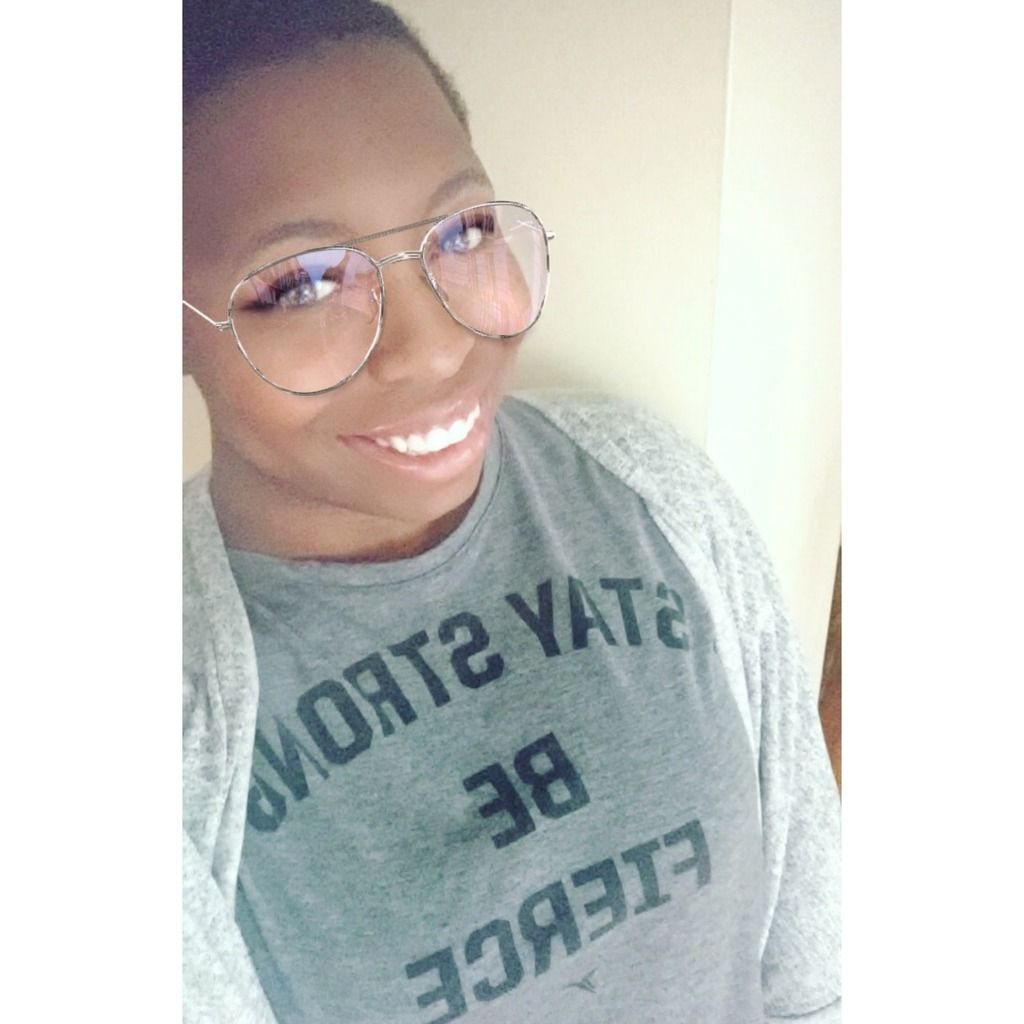 Check this out… Snapchat got another filter with these oversized glasses and I'm here for it! Plus with the added tint, I look decent. 😀 (My t-shirt says "Stay Strong, Be Fierce".)
So yeah, that's about it. If you read all of this, I'm sending high fives your way.
Hope all is well with you!
xo