If you follow me on social media, you saw that I recently attended an interesting party. Le Dîner en Blanc (abbreviated: DEB), started in Paris, is a special event. Thousands of invited guests walk to a secret location, set down tables and chairs, and have a pop-up picnic!
On August 27th, I attended the 3rd annual party in DC. I found out about this event last year after reading other local bloggers rave about their time.  It was on my wish list to attend; I knew it would be a fun way to meet people and participate in the DC social scene.  Out of nowhere, a friend asked if I wanted to go. There is a detailed process every year – you get to attend if you were at the previous year, get invited from a member, or get selected from a huge waiting list. We are the third option…and we got in!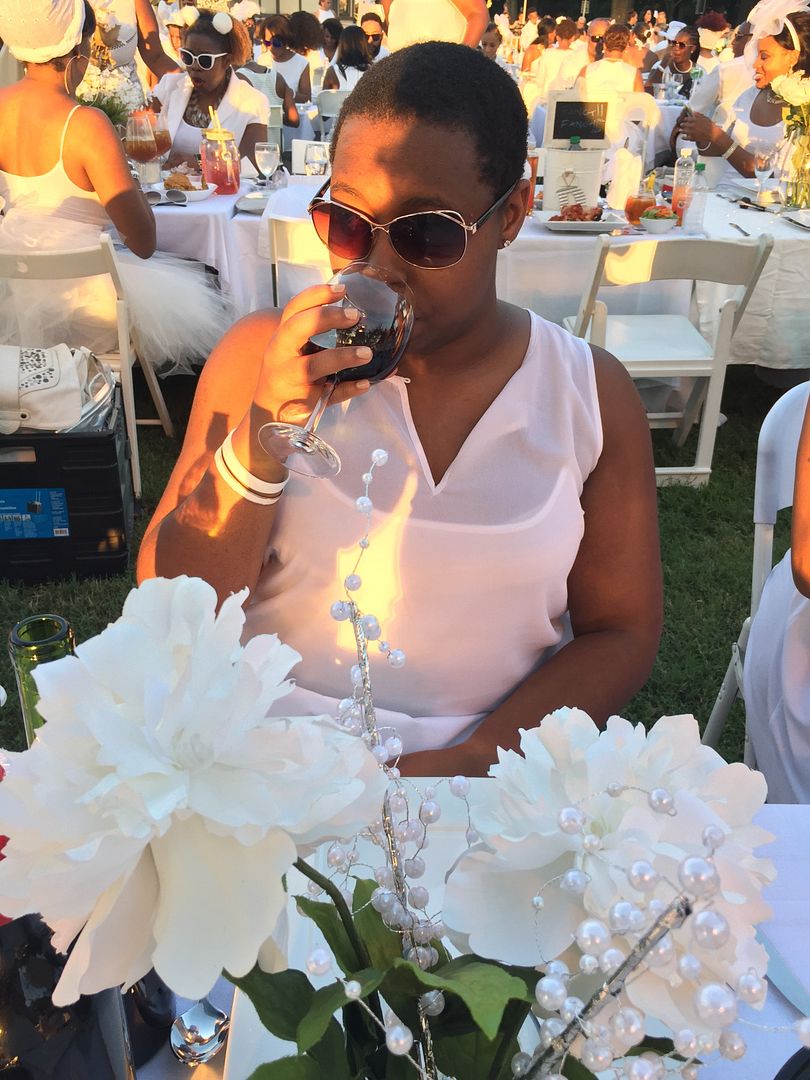 Let's get into the nitty-gritty…
There was a lot to do in so little time! Here is the catch: Everything has to be white. Your clothes, the table settings, chairs. It's very particular, but you can be very creative within the confines of the rules. That's the fun part.
I had less than two weeks to get myself ready.  Along with my friend, we secured a portable table, chairs, silverware, and decorations.  My main concern – finding a classy, white outfit! I don't have a lot of white apparel and time was not on my side.  So, I opted to find a sleeveless top from The Limited and used my chino pants from Old Navy.
We received an email as to where we needed to meet with our group, and we walked several blocks to our destination: Henry Bacon Park (near the Lincoln Memorial). The journey was long and a little painful (my knee was not happy), knowing others were trekking with you, made it worth while.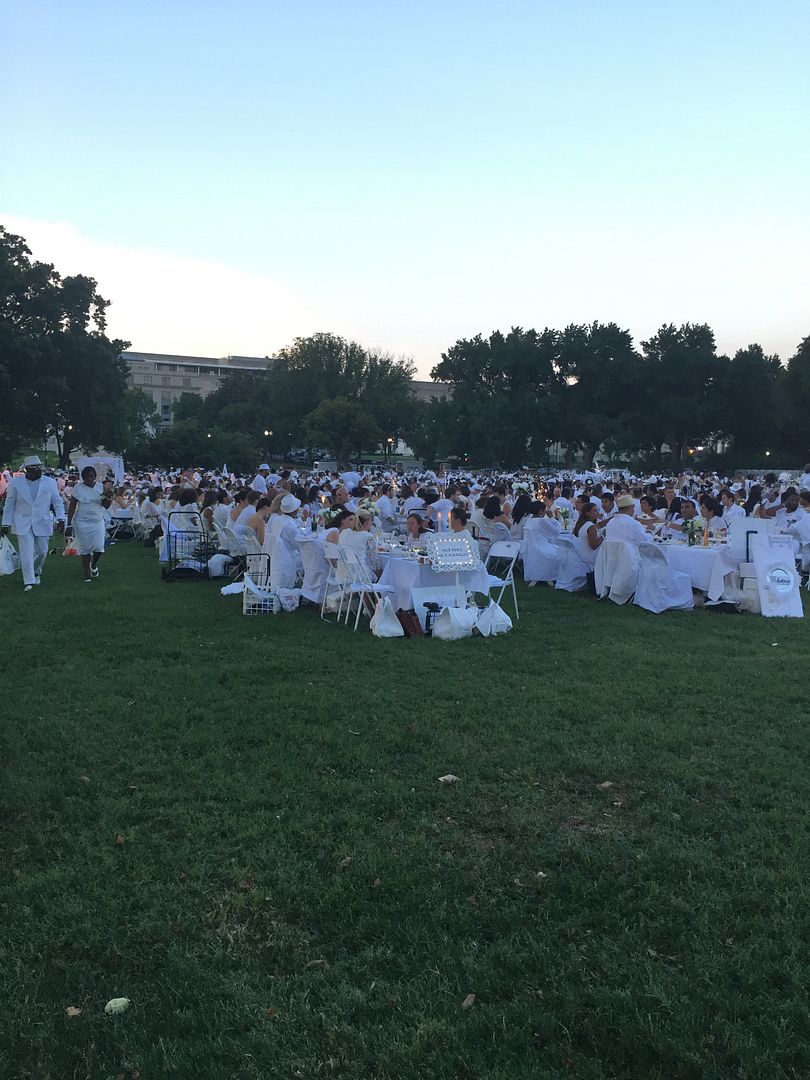 There was over 3,500 guests in attendance!  Such a sea of white. 🙂  Live music during the dinner hours, and then a fun dance session with the DJ.
I decided to go simple for our table, but it worked!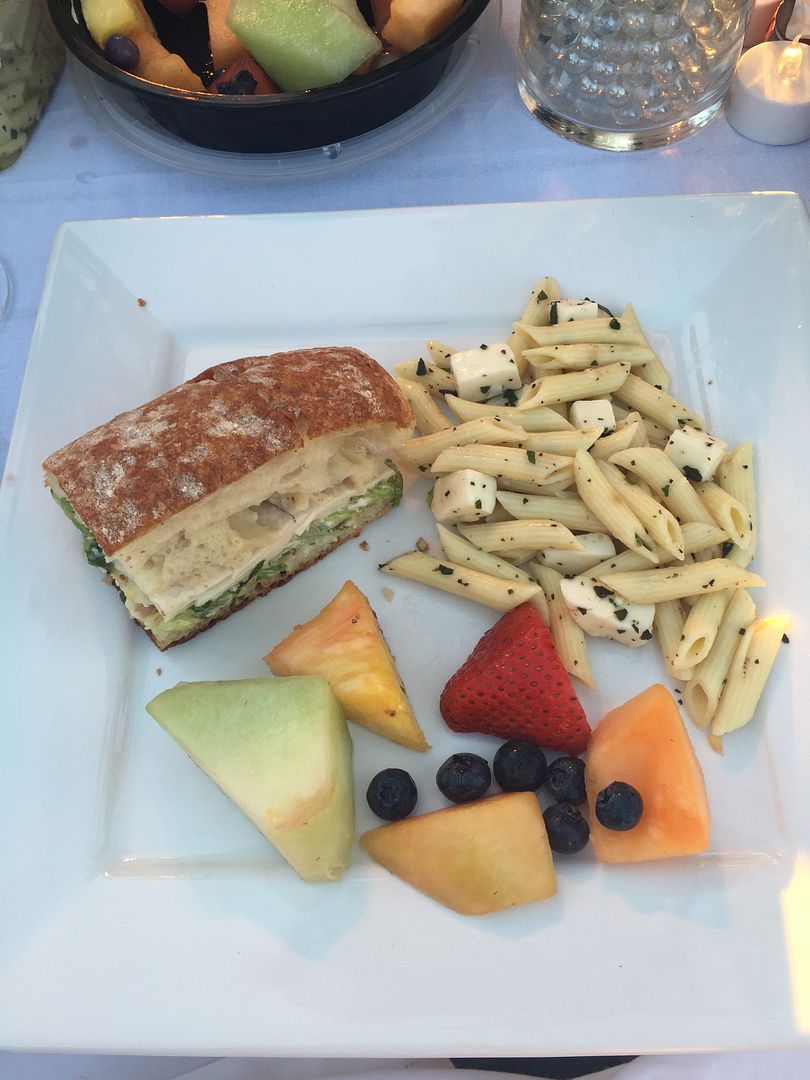 Our food came from Wegman's = my dish consisted of a chicken caesar salad sandwich on ciabatta, a tasty mozzarella pasta salad, and fruit. I also purchased cupcakes from Lilly Maguilly's.
Here are a few articles on what happened: x x
I will admit, this was an overwhelming time. Getting everything ready, and having to wait around in our designated spot for longer than we had to was not fun. The insight from previous attendees help, but they don't fully prepare you for the rush of the day.
But overall, it was a blast! As you can tell from the links I provided, a lot of the guests were wearing amazing outfits, had exquisite props, and went all out. It felt cool to be a chosen member of this "club".  Next year, things will be different. We already have our chairs and table, and know what to expect. Most likely, we will call an Uber or rent a hotel for the weekend, so we won't be so exhausted. 🙂
'Til next year!
xo