Last month, I started a series called Dressing Up For Spring. We talked about cute heels, and now here is part two.
What makes your wardrobe Spring-like?  In my mind, clothes that are lightweight, bright or soft hues,  giving you a warm feel.  Plus, depending on the climate, with spring, you have more options with skirts and dresses, shoes, and more!
Here are four outfits I'll be featuring:
Let's go through the breakdown, shall we?
ONE: This is my Easter outfit. Originally, I wanted to find a pretty eyelet dress, but that did not work out.  I saw a photo on Pinterest with the white and blue combo, and that was my second choice.   Thanks to deep sales and accessories I already had, I was able to make it work well under my $75 budget.
Blue blouse  – White pants  – scarf (birthday gift) – Rose gold bracelet –  nude pumps – light blue purse (birthday gift)
TWO: It had been a while since I wore this baggy sweater. The temps were rising and I need some color in my life on a Sunday morning. Purchased the top at the Talbot's outlet store (on sale, of course), with jeans.
Patterned sleeveless top (Talbot's) – Fuschia sweater (Forever 21) – Jeans
THREE:   I went to Charming Charlie and noticed this kimono on the sale rack. I opted to leave it be, but a week later, it was still there, and had dropped to $9. So, you know I got it.  Light and fun!
Kimono – White eyelet sleeveless top (Target) – Black jeans – Rose gold bracelet – nude flats (similar) – black purse Forever 21
FOUR: Back at it again with the blue and black!  I added a necklace from Old Navy to brighten the dark colors. It was a tad brisk on Sunday, but it worked perfectly for Church.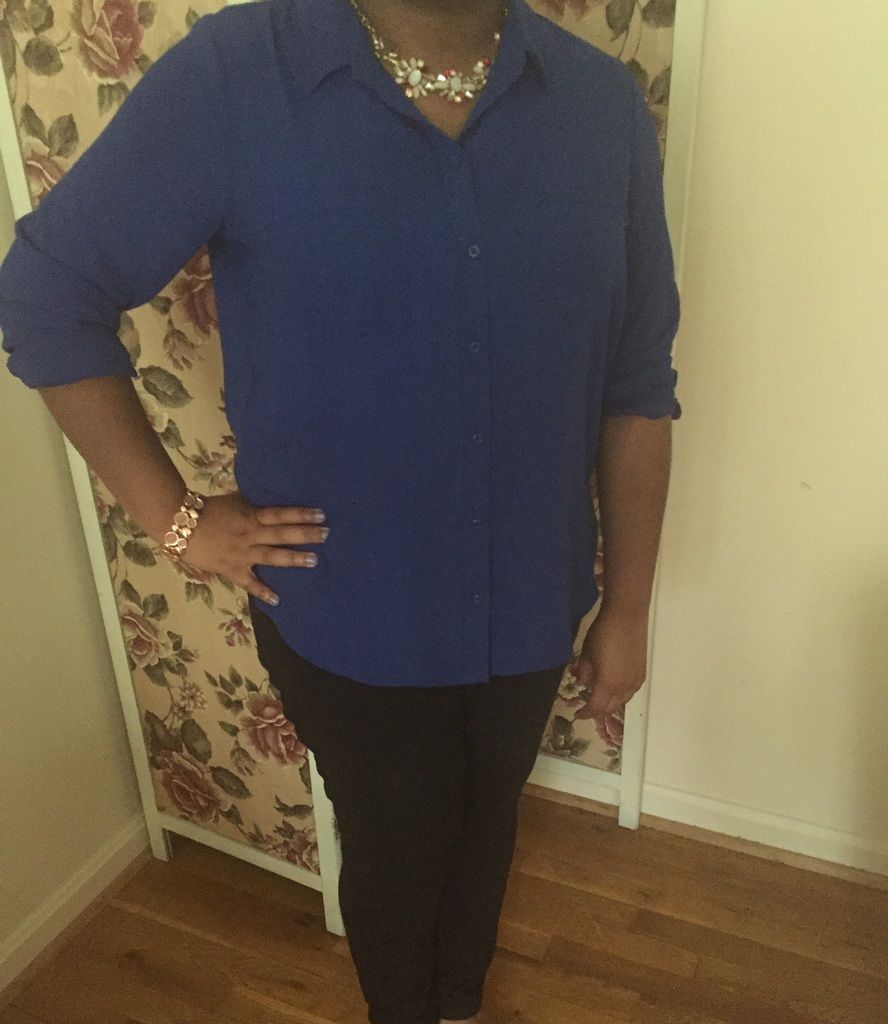 As you can see, I've gone towards darker shades, but I love adding bright accessories. My plan is to find some yellows and greens to add to my wardrobe.  It's great to rotate signature pieces to create more than one look.  For me, that's key.  Being creative and saving money.
What are spring staples you have? How many outfits can you put together from them? Let me know!
xo