Hello there!
Week One of my 10 New Meals project is underway.  I have one dish and two desserts (which we will talk about next week) under my belt.  Maybe you saw what I was making over on Snapchat.  So far, It's been successful.  Nothing more satisfying that creating something – including food! 🙂
I'm a huge pasta fan. It's my version of comfort food.  Whenever I go to Noodles & Company, I choose the Penne Rosa, with Parmesan Crusted Chicken.  Gahh – so good!  It's a spicy, creamy dish that is very tasty and filling.
I've been wanting to make it at home. When I thought of the dishes I wanted to make, penne rosa was at the top of my list. Over the weekend, I bought the ingredients and finally had time to make it happen yesterday. I wanted to keep it simple, so I did not include meat or feta cheese (which is sooo good).
The recipe and photos are under the cut.  It took about 30 min (Prep, cooking time, etc.) to make. (But I was taking pictures so that added time.)  This dish should serve about 4, but I did not use the 1/2 lb of pasta.
Here are the items you need: (Recipe adapted from Budget Bytes)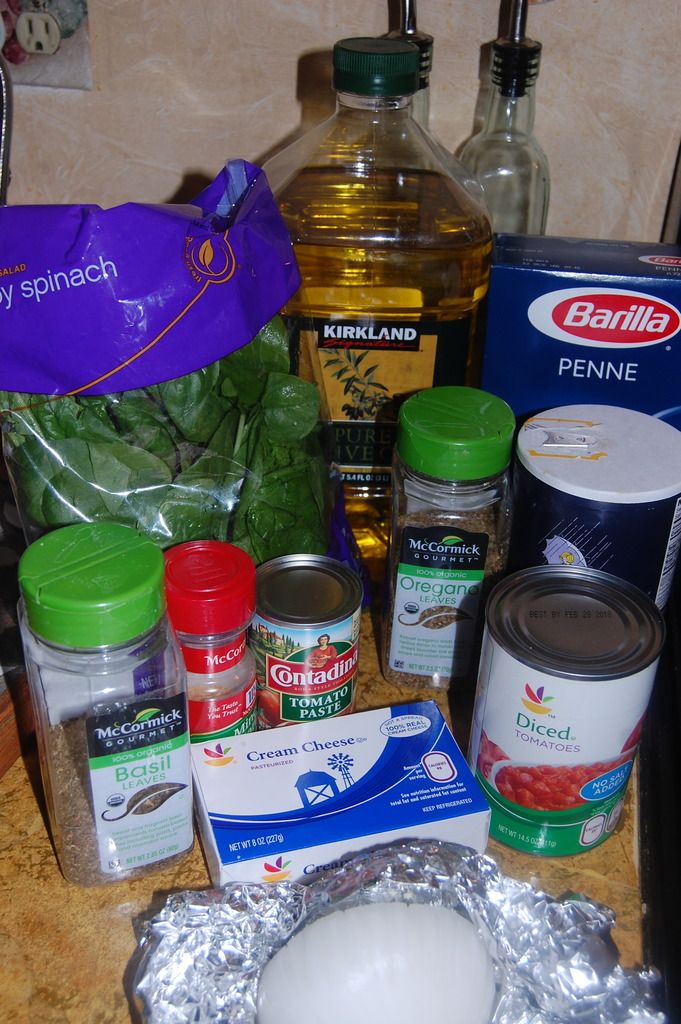 (Forgot the cheese in the picture!)
1/2 lb. Penne (or any other noodle)
1 Tablespoon Olive oil
1 small Onion (I only used a little bit)
2 cloves of garlic OR a few sprinkles of minced garlic
1/2 teaspoon of dried Oregano
1/2 teaspoon of dried Basil
1/2 teaspoon of Salt
Pinch of Ground/Cracked Black Pepper
A few red pepper flakes (optional)
1 can of Diced tomatoes
2 Tablespoons of Tomato paste
1/2 cup of water
2 oz. cream cheese
1/2 package of spinach leaves
1/4 cup Grated Parmesan cheese
Feta cheese (optional)
** To save time, make your pasta while you prepare the sauce. **
Let's get started!
Sauté the onions and garlic in the olive oil, on medium-low heat.
Add the diced tomatoes (with the juices), paste, spices, salt, pepper, and water. Stir until well blended.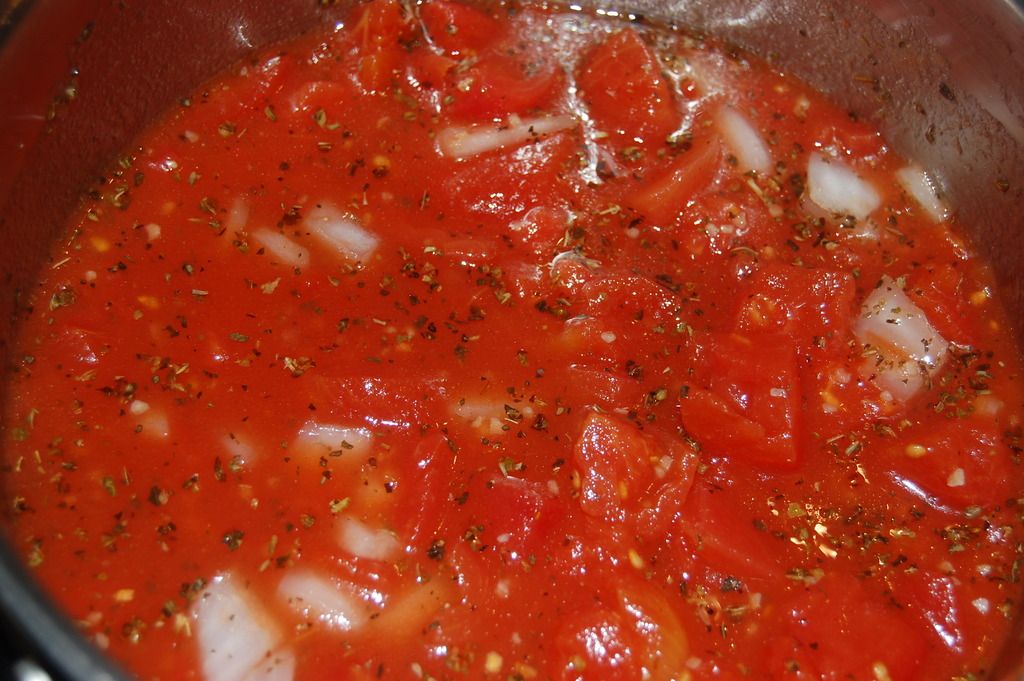 It's really smelling good by now. Now, cut up the cream cheese before adding in.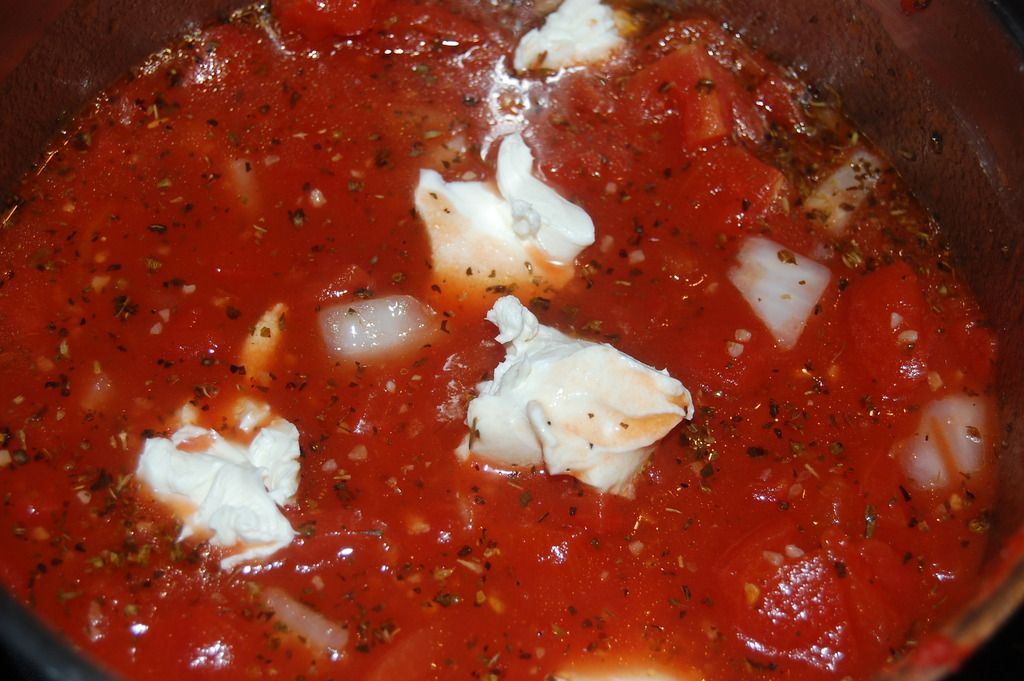 Next, whisk/lightly stir this new combination to create a signature pink hue; keep going until the cheese has melted in. Also, you can add more salt, pepper (to taste).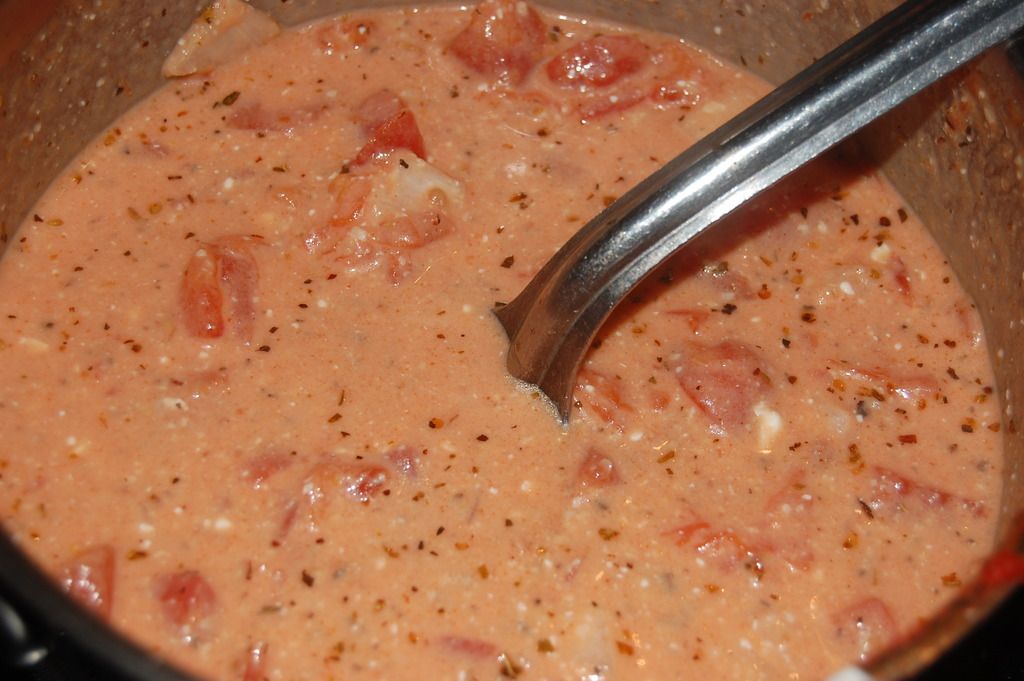 It's time to add the Parmesan cheese. The recipe I followed recommend you to add the parm in two parts.
Now, add the spinach in the sauce. As you know may know, spinach wilts, so it should take about 5 minutes for that to happen.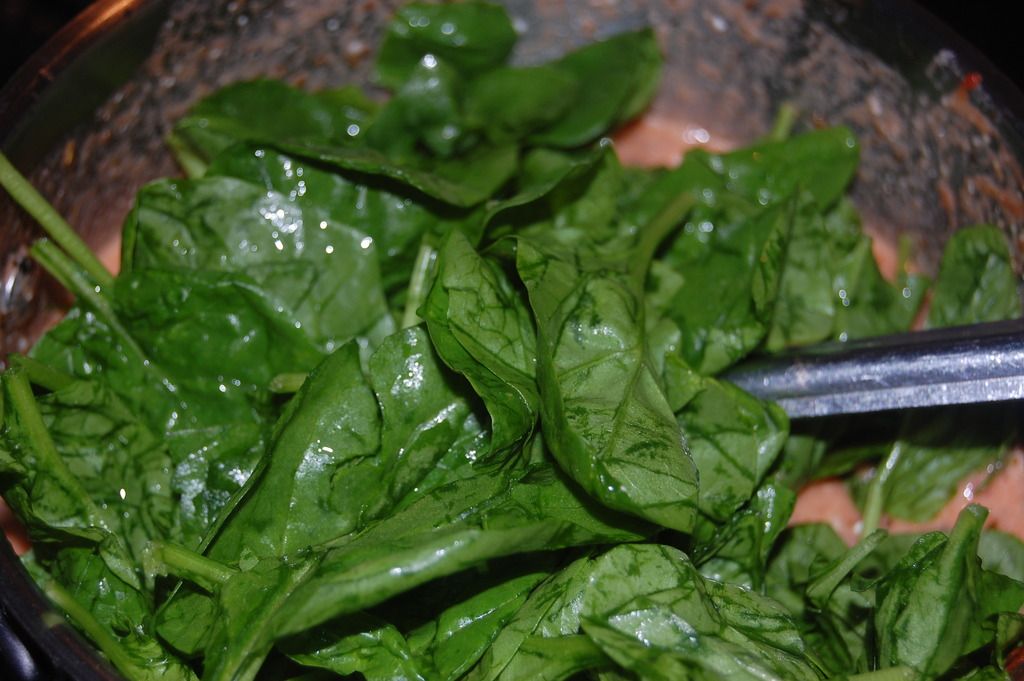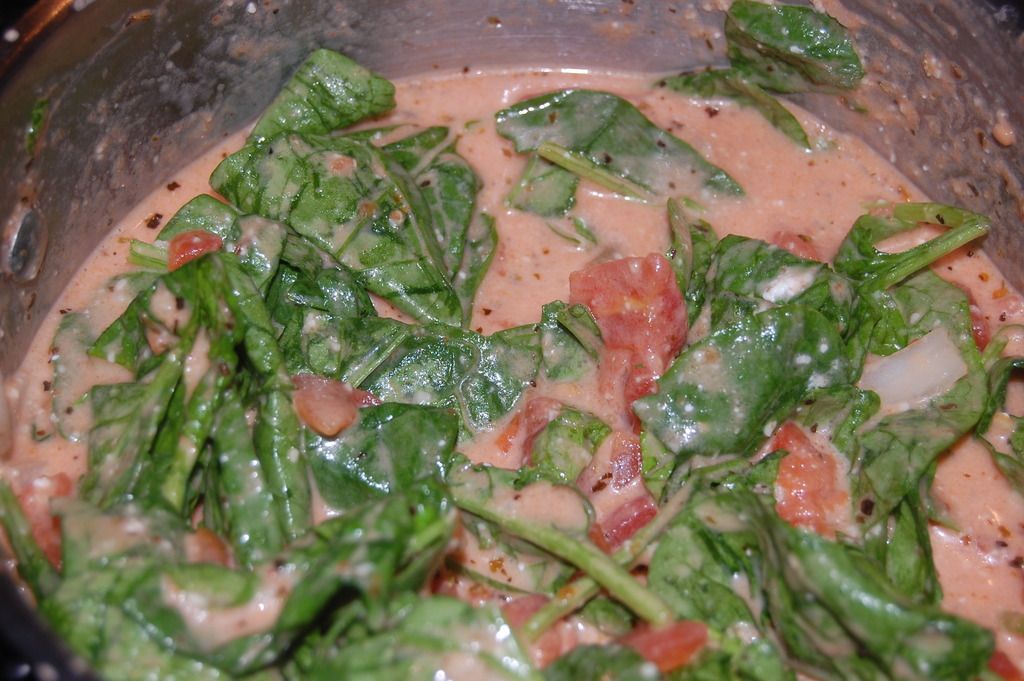 By this time, your pasta should be done.
Here is the fun part:  Envelope your pasta in the sauce. Once it's coated, you're ready to eat!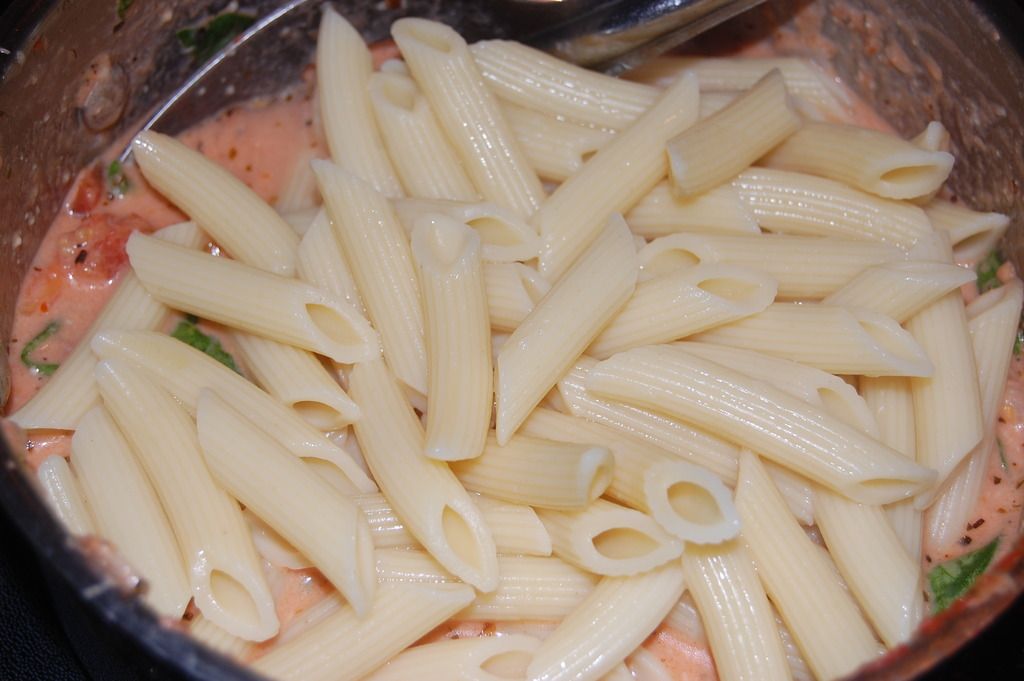 Once you're done with plating your meal, you can sprinkle Parmesan or feta cheese on top (if you want).
Yum yum!  If you like your dish with more of a kick, you can add more red pepper flakes.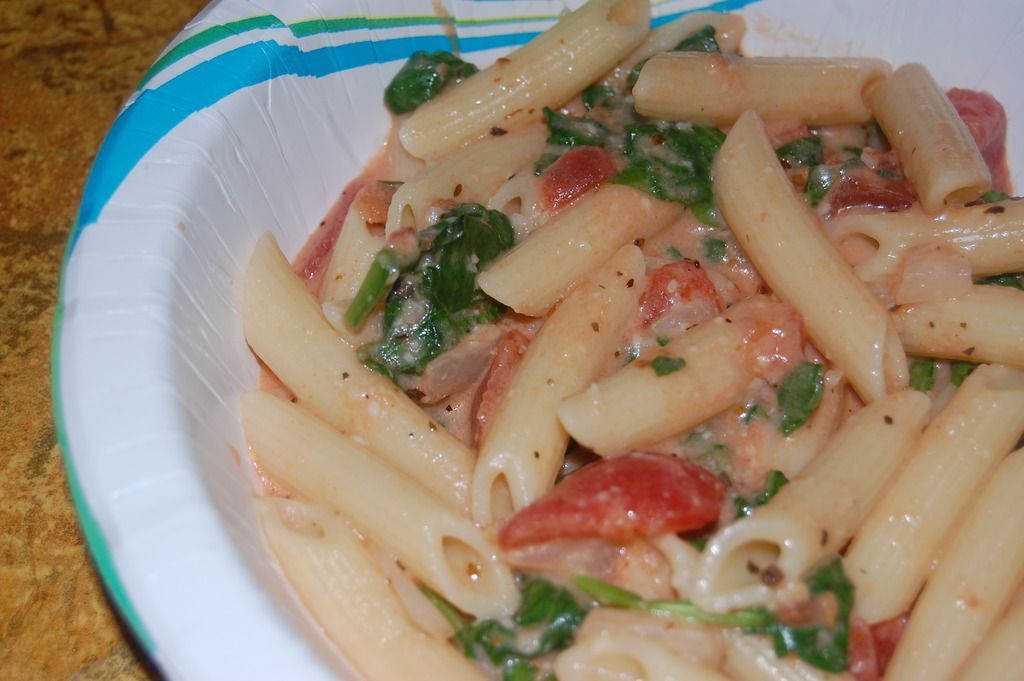 For the first time making this, it was pretty good! Next time, I'll cook the chicken.
There are different ways to make this meal – some have heavy cream, marinara sauce, mushrooms.  It's all up to you.  However you want to zest up this dish. Go for it!
xo